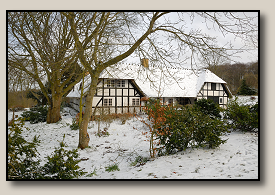 We saw Flintenlund for the first time in the autumn of 2007. When we drove up to the house we fell in love the moment we laid our eyes on the house. It's an old farm build in the year 1777, and there are still some original elements in the building. The farm is situated almost on top of a big hill and around the farm there is a 6,2 ha. big field of which a small piece is wood. Right besides the property is the wood that's called 'Broby Skov'.

When we bought the farm, the farm was actually called 'Marenlund', but we decided to name the farm after Annette's first trial dog 'Flint', so that he never would be forgotten. It has always been a dream of both of us, to live in a farm like this and now, finally this dream came through...

There is plenty of room for our sheep, dogs, our selves and of course our lovely daughter Iris.